12th International Conference on Concrete Pavements (12th ICCP)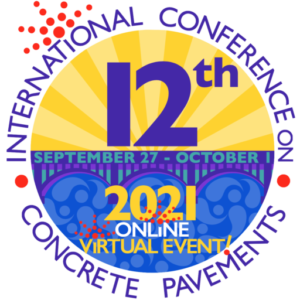 12th International Conference
on Concrete Pavements (12th ICCP)
"Making Waves with Durable, Resilient Concrete Pavements"
Online Conference:
SEPTEMBER 27 – OCTOBER 1, 2021
Welcome | ようこそ | Willkommen | 歡迎光臨 | Bienvenido | Karibu | Laipni lūdzam | Добро пожаловать | स्वागत | Bienvenue | Welkom | Velkommen | Salve | Aloha
This conference will carry on the tradition of a series of international conferences begun in 1977 by Purdue University—now organized by the International Society for Concrete Pavements. As with the previous international conferences, the focus of the twelfth conference will be to present information on new technologies related to the design, construction and rehabilitation of various types of concrete pavements. These presentations will include peer reviewed paper presentation and ten sponsored workshops.
COVID-19 Pandemic Update (June 14, 2021)
As the global pandemic of COVID-19 continues to spread and unprecedented health measures are taken in countries around the world, the 12th International Conference on Concrete Pavements (12th ICCP) Organizing Committee has been working hard to find the best solution for conference attendees, venues, and the Society itself.  Between unknown international travel and limited travel opportunities for state agencies in the United States, we can announce that the 12th ICCP has been MOVED ONLINE for 2021:
SEPTEMBER 27 – OCTOBER 1
This decision was not taken lightly as the balance between ISCP's mission of technology transfer and its fiduciary responsibilities required much discussion.
As part of our re-negotiations with the conference hotel,
ISCP will be hosting the 13th ICCP2024
in Minneapolis, Minnesota, USA in late August of 2024.
Many details are being worked on by the Organizing Committee and will be posted here when available, including conference registration and virtual sponsorship opportunities.  In the meantime, if you have any questions regarding the conference, please contact us at conference@concretepavements.org and we would be glad to provide more clarification.
On behalf of the 12th ICCP Organizing Committee, please stay safe and healthy!
Related Events